8 March, 2012
I know I sell 'em, but it always seemed to me that Pedalboards are a bit of a rip-off. I mean, a piece of ply, gaffa tape and you're done right?
I've never been a heavy FX user. I've only ever really used a Peterson floor tuner and a Treble Booster (sometimes 2 x boosters – 1 always on and the other as a boost for solos) so a pedalboard has never been on my list of priorities. After a 2 1/2 year break, we're getting back together with a new drummer and I thought it maybe time for a bit of a change. I've accumulated quite a lot of gear over the years but the majority of it gathers dust which is sacrilege, so when dusting off my gear before our first rehearsal I decided i'd get a bit more extravagant.
My first decision was to add a few more effects. We've decided to try and get a bit more experimental this time around so I had a look at what may be interesting choices. I decided to go with the following effects -
Vox Wah

Boss CE-1 Chorus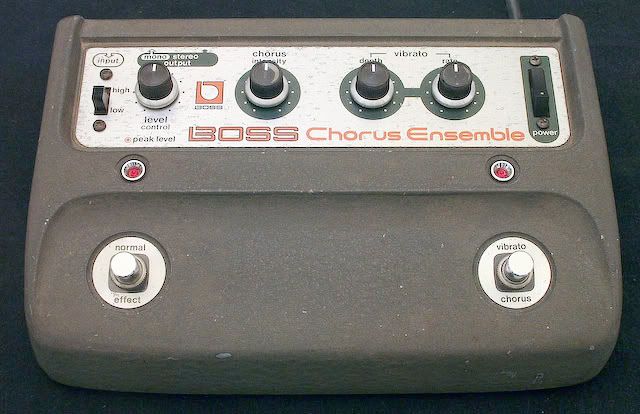 Shere SoundWhirligig – Tremolo/Vibrato/Phaser
and an Eventide Timefactor Delay
It's all very well wanting these effects, but using them together may sound horrible so I began testing it all out in different configurations.
The very first thing I realised was that it sounded BAD using just the one Amp. When the Chorus and Delay were bypassed, the sound wasn't too bad, but as soon as you kicked either one (or worse, both) in, the whole sound got mushy in a nasty way. So I added another AC30 (which is was kind of half planning on doing anyway). Having gigged for 8 years using an AC30, it dawned on me fairly early on that as soon as I could afford it, i'd buy a spare. AC30s are great amps, but they'll always fail when you need them most which is why I bought a second AC30 TBX when a good offer came up on one and also a 70s Arbiter made AC30 a couple of years ago.
With the inclusion of another amp, I tried using the stereo output from the Eventide, but I found the chorus modulated in an unpleasant way when repeated, making it difficult to distinguish what is actually going on playing wise so I brought in the 2 way splitter given to me by Greg Fryer some years back.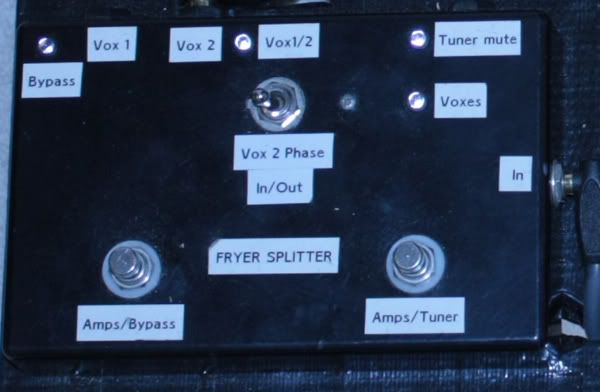 My chain was
Peterson -> TB -> Vox Wah -> Whirligig -> Fryer Splitter
Output 1-> AC30 (1)
Output 2-> CE-1 -> Eventide Delay -> AC30 (2)
This was a lot better, especially if the Delay pedal was muted in real time, only to play repeats when in use. The only thing I found was that there was a noticeable gain/signal loss from the TB to amp 2. I think this is primarily because of the CE-1. I've noticed in the many times i've used it that there's a drop in signal when it's in line.
I employed the work of this little unit…
It only needed a slight turn of the dial, but it did exactly what I needed it to do – boost the signal without colouring the tone. To power it all, I used the Diago Micropower 9 (look out for it on the website over the next few days) with a daisy chain adapter (9v battery adapters for the TB, Splitter and Wah.
The next step was to buy some wood. I bought a sheet of MDF from B+Q (around 60cm x 100cm) for just under £10.00 and started mapping my pedalboard.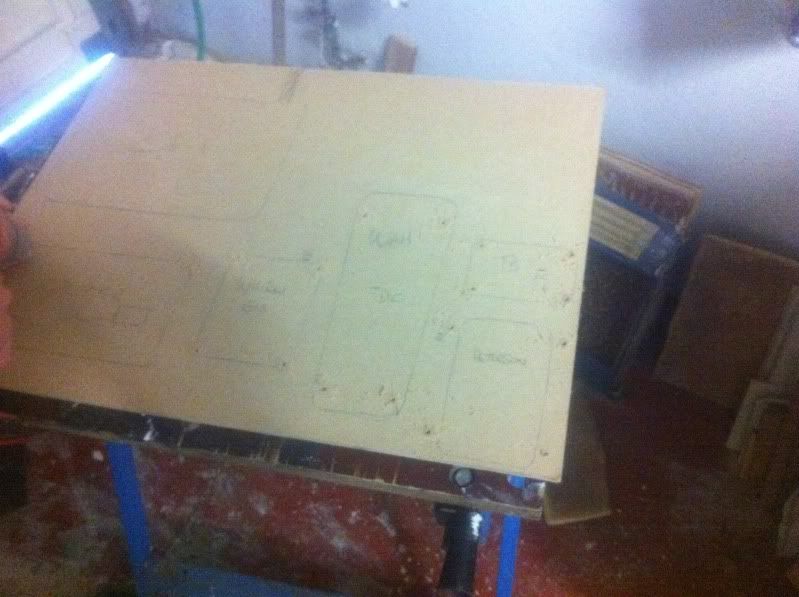 The mapping of the board was difficult. The patch cables I used were either 6″ or 12″ and so I had to be strategic in what went where. It took around 5 attempts before settling on the final positions. Once the positions worked, holes were drilled for the pedals to be attached. Personally, I haven't had great experiences with velcro but I know 50 people who have no problems at all with it! Not only this, Velcro is a much better way of fixing pedals to the board as it means you can swap them around easily enough.
But I like to be awkward.
Anyway…
After everything was marked out and the holes were drilled, we (I had some help from my Dad) concentrated on the bottom of the Pedalboard. It made sense to me for it to have an inside to conceal the power supply and so that we could route the patch cables from pedal to pedal underneath – making the top of the board cable/mess free. Plus the way the pedals were arranged, patch cables would have been going over/under pedals in their way. That together with 6 daisy chains – eugh.
I also wanted the board to be on an angle allowing easy access to the top row of pedal switches. We worked out an angle, realised we messed up, re-did it, and then cut a rectangle out of the centre of the board. This allows easy access to the power supply and multiplug that's situated inside. A piece of MDF slightly larger than the hole will cover it using velcro to protect the inside.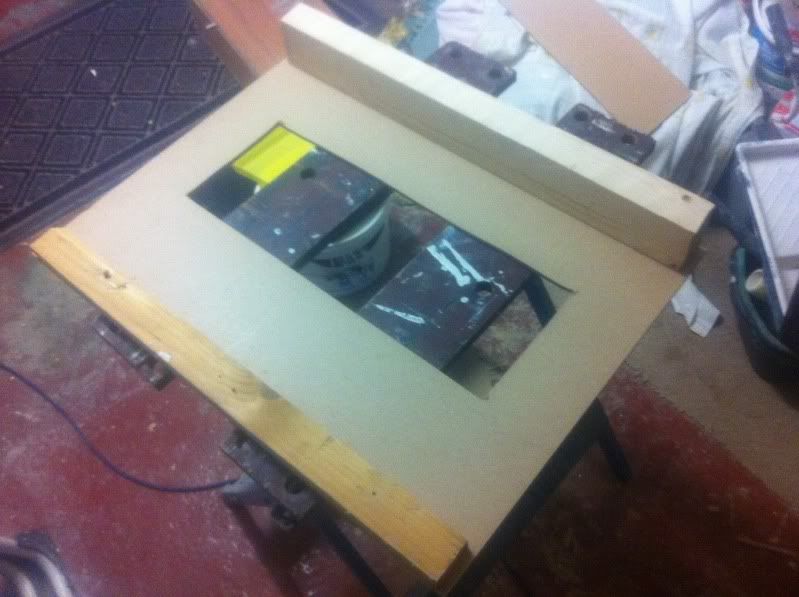 With this made, we attached all of the pedals to the top of the board and tried wiring/plugging them up as they would be. It became apparent that some connections were a very tight fit, so we marked out channels for the patch cables, providing them with a bit more breathing space and also keeping the top of the board nice and neat. Also, holes needed to be made for the daisy chain connectors to have access to the pedals in various locations.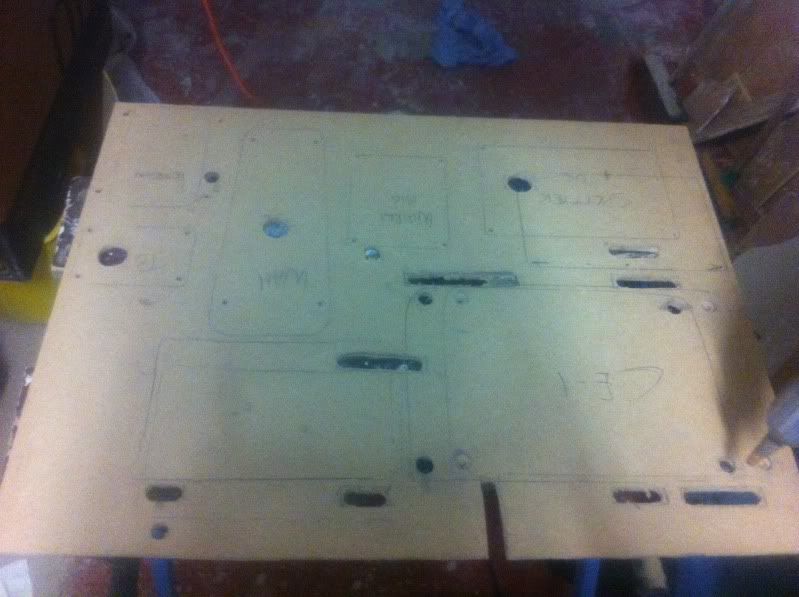 Now came the fun bit. We covered the top of pedalboard with black Gaffa Tape; easier and quicker than painting it! As we went along strip by strip, we punched holes and cut out channels so we knew exactly where the pedals needed to be attached.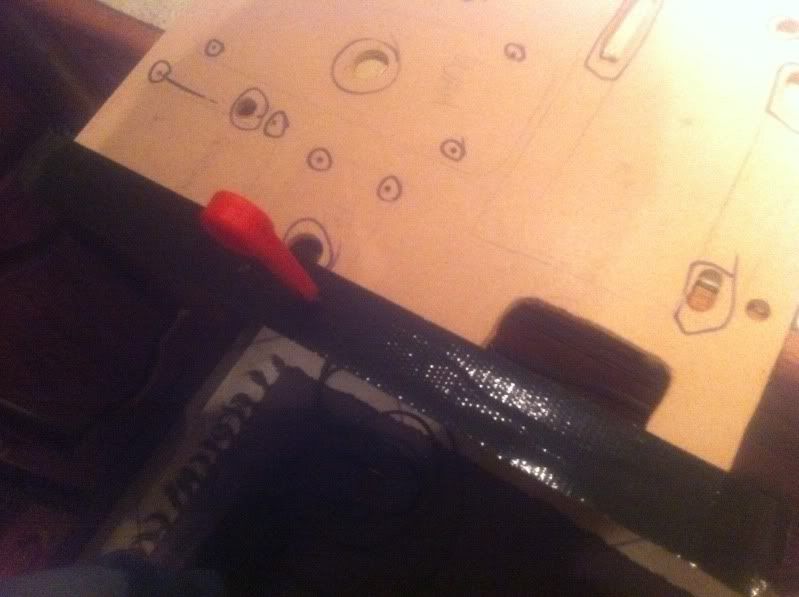 I say this was fun to do – at this point it was about 1am in the morning and snowing a blizzard outside. I contemplated leaving so I could get home safely, but we'd gotten this far…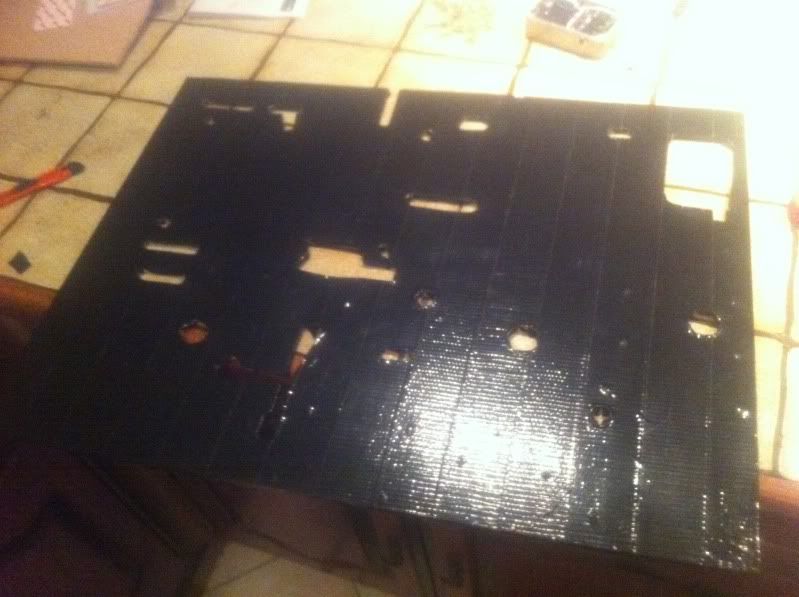 Next we attached the pedals to the board by screwing their original screws from the underneath of the board into their holes, plugged the cables and daisy chains in. On the base we attached a 4 way multiplug for the Diago power unit, Boss CE-1 and the Eventide Delay. Screwed the top onto the base and hey presto! it was finished.
Except it needed a name. Something cool, something catchy, something that sounded less funny each time you say it.
May I proudly present to you my pedalboard – The Schmorganboard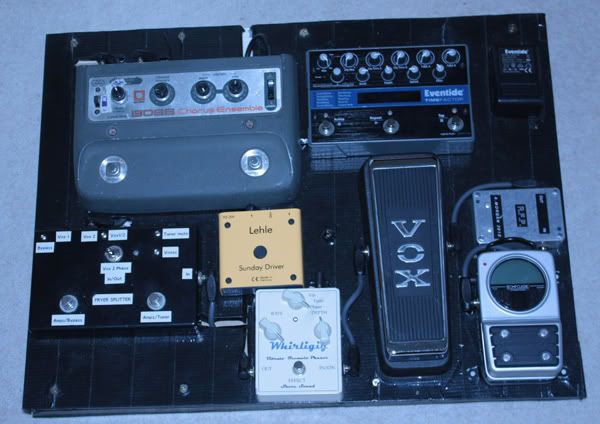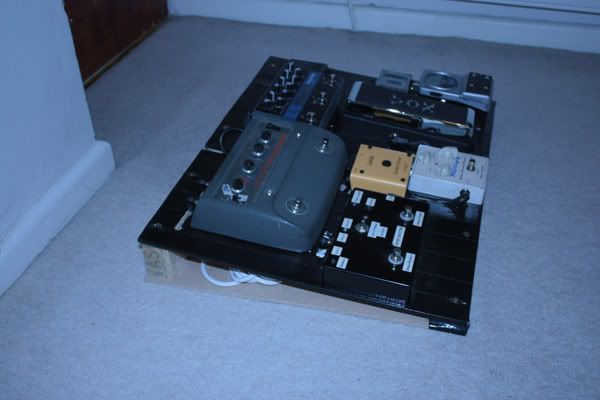 In total I reckon it took around 10 hours to build. If you have even a basic grasp of DIY, you should be able to do it in half that time. I put our difficulties down to the peculiar shape and size of the pedals.
The main thing is that it works, sounds great and has cut my setting up time by around 10 minutes in rehearsals.
So to conclude, I'm happy that I attempted to build this, but at many points throughout the project both my dad and myself muttered "why not buy a sodding pedalboard?". Still, I saved myself £100 which I put toward the Lehle Sunday Driver and I have a setup that currently meets my needs. Fingers crossed it stays together…