Blackstar have been hitting home runs recently with their Silverline Series, Sonnet and Super Fly amplifiers which is why, when I needed something for home use Blackstar was the obvious choice.
I ended up choosing the Super Fly, a portable 12 Watt amp with two full range 3" speakers for stereo sound. We have channels for microphone or line instrument and either acoustic or electric guitar. The guitar channel has voicing options for both electric and acoustic guitars and an overdrive option for the electric. Both channels have independent EQ and reverb.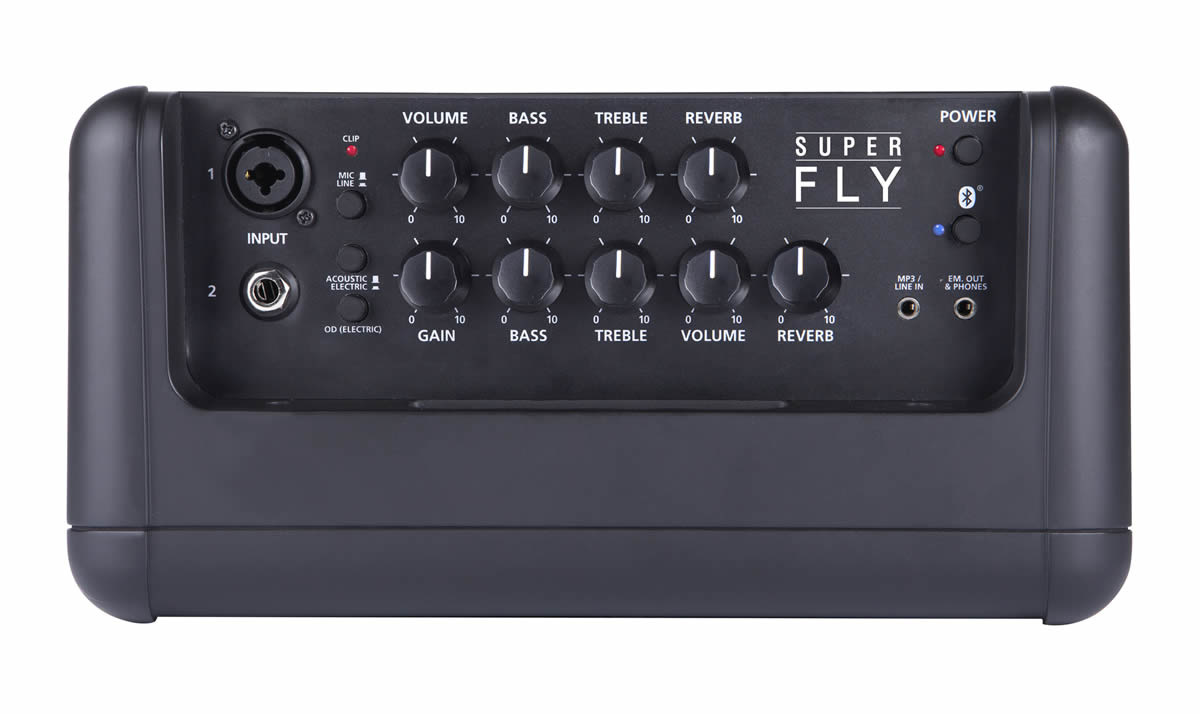 First Impressions
I adore reverb, delay and ambient sounds so what makes this amp so great is a beautiful and tasteful reverb for each channel. I am playing both acoustic and electric guitars into the amp and find that (levels aside) I don't have to adjust EQ or reverb to get a stunning tone with a big open feel. 
On the OD channel I tend to keep the gain low (around 10 o' clock) as it cleans up nicely when the guitar volume is low. This amp doesn't claim to mimic or emulate a valve amplifier but if you have an electric guitar plugged in, you quickly forget that. Take caution in kicking in the OD channel as it jumps in volume (but then we are rocking out, right?!). 
Plug and Play
The Super Fly is battery powered (8xAA) or can run off a dedicated power supply. When you purchase the pack you also get a rechargeable power bank that gives around 9 hours run time. I haven't had the opportunity to take this amp out to gig or busk yet but have absolute confidence in the quality and tone of the amp itself, volume-wise? I'll let you know if it can keep up (an extension cab is available to take the amplifier up to 24 watts). 
Give me a Demo!
So the beauty of this amplifier is in it's portability, as well as a fantastic guitar tone! I can't think of a better video to demonstrate what the amp can do than this one:
Featuring Blackstar's very own Steve Marks, everything you hear is played through the Super Fly live at Joshua Tree. So if you want a simple amp for home playing or a busking buddy, the Super Fly is a one stop solution for guitarists. I've popped our link below for more information and any specs I might have missed! 
https://www.astrings.co.uk/blackstar-super-fly-battery-12w-portable-guitar-am-101433186.html