It is that time of year, all eyes are on the NAMM show in Anaheim to see what's in store for the coming year. All the companies and manufacturers are gathered together to showcase their new products and lines and for us, all eyes are on Fender.
In Another Universe
This year sees a continuation of the Parallel Universe series of instruments with Fender's 'Volume Two'. Here are some of our favourites, all of which will be available with us here at A Strings.
Limited Edition Jazz Stratocaster, Mystic Surf Green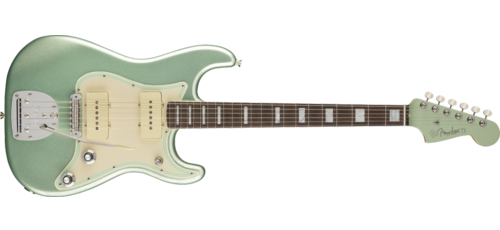 Cosmically stunning in Mystic Surf Green lacquer, the limited-edition Jazz Strat® is a sublimely surreal celebration of classic Fender design, transmuting the known into something new and curiously beautiful.
Combining a sleek and comfortable contoured Stratocaster® body with the neck, vibrato and pickups of a Jazzmaster® – and capped with a custom Decoboom™ Streamline Pinstriped pickguard and aluminum radio knobs – the Jazz Strat is a potent fusion of classic Fender design and extraterrestrial intervention, creating something altogether extraordinary.
Limited Edition Uptown Stratocaster, Static White

Dapper and bold – the Uptown Strat® commands attention when it enters a room. Static White lacquer highlights and accentuates the slab mahogany body, a bound and block inlaid rosewood fingerboard radiates class and a pair of chrome DoubleTap™ humbucking pickups draw the eye. Featuring a 24.75" mahogany neck with 22 medium-jumbo frets and a 9.5" radius, 2-point Synchronized Tremolo System, and individual volume and tone controls for each pickup, the Uptown Strat is as versatile as it is unique.
Limited Edition Stratocaster Jazz Deluxe, Faded Seafoam Green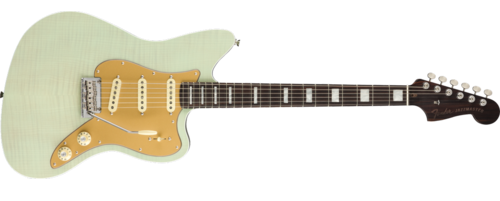 Boutique appointments, offset elegance, and Stratocaster® versatility come together in this extraordinary instrument with looks, tones and playability that are out of this world.
Ravishing in Transparent Faded Seafoam Green, the figured flame maple top-on-bound slab Jazzmaster® body is a bold, beautiful twist on a classic design, evoking high-class jazz guitars and delivering substantial tones and resonance. Complemented by a silky-smooth one-piece rosewood neck with 9.5" radius and 22 Narrow Tall frets, it plays like a dream with looks to match.
Limited Edition Troublemaker Tele Deluxe, Olympic White

It takes a big personality to show up in a white tux – and the Troublemaker Tele® has the swagger to pull it off. The bold Olympic White lacquer finish and swanky gold hardware belies this guitar's true purpose – to cause an uproar and make a racket.
But it's not all style-over-substance – this Tele has class. The body is a solid chunk of mahogany, known for its mid-range growl and sustain. The 12" radius neck and 22 medium-jumbo frets promise smooth action even with the most aggressive playing and its custom Double Tap™ humbucking pickups give the Troublemaker its rowdy-yet-refined voice.
A Limited Piece of History
In the fall of 1950, the world of guitar and popular music changed forever with the introduction of the Broadcaster®, Fender's first solid body electric guitar with a truss rod and two pickups. A few short months later, a telegram from Gretsch®, owner of the BroadKaster® trademark, ended Fender's use of the name. For a short time, the word "Broadcaster" was simply clipped off the headstock decal - these guitars are known as "Nocaster®s." Thereafter, this revolutionary guitar was dubbed the Telecaster®. Original Broadcaster models, of which only 250 are thought to have been produced, have become highly collectible.
70th Anniversary Broadcaster, Blackguard Blonde

The Fender® 70th Anniversary Broadcaster celebrates the remarkable origins of one of Fender's most iconic models. Features include an ash body with Blackguard Blonde lacquer finish, period-correct black phenolic pickguard, thick "U"-shaped neck, Custom Shop-designed Original Blackguard pickups, special anniversary neck plate, embroidered case and a custom COA.
The controls are wired for standard Telecaster operation, while an optional original Broadcaster wiring kit, included in the case, can be installed to replicate the unique "blend" circuit used in original Broadcasters. Production of the 70th Anniversary Broadcaster will be limited to 2020 only.
Artist Models
As well as the weird and wonderful, Fender have also announced a number of artist models from Jim Root through to George Harrison. We'll be taking a look at the Tom Morello signature model before it's arrival into store.
Tom Morello Artist Stratocaster, Rosewood Fingerboard, Black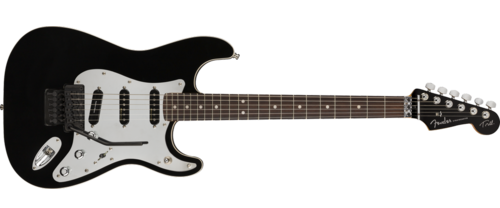 Tom Morello's unique, powerful sounds - from gentle rhythms to screaming feedback, chaotic stutters, and more - require a very special Stratocaster®. The Tom Morello "Soul Power" Stratocaster – based on the modified Designer Series Strat used during his time in Audioslave – features an alder slab body with binding and a "Deep C"-shape maple neck with 9.5"-14" compound radius rosewood fingerboard and 22 medium-jumbo frets. Other features include a recessed Floyd Rose locking tremolo system, Seymour Duncan Hot Rails bridge humbucker, two Fender Noiseless pickups in the neck and middle positions, chrome pickguard, kill-switch toggle, locking tuners, matching painted headcap and iconic "Soul Power" body decal in the black Fender case.
All of the above models (as well as many more!) are available to order through our website and in store. If you are interested in any other 2020 model from Fender then let us know! Keep your eyes peeled for videos, blogs and instagram photos of all new stock that comes in.